Clothing and footwear appropriate depending on season. In winter pullover or light jacket.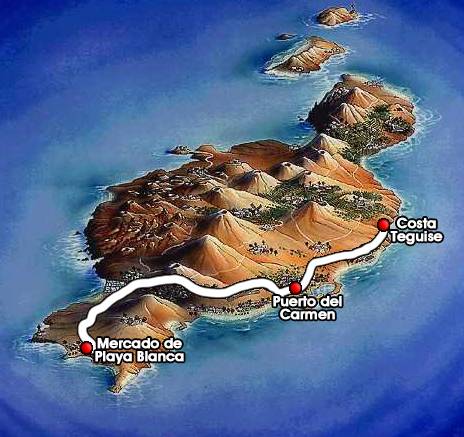 Discover Playa Blanca with us, the most southern Resort on the Island. First we spend two hours at the lovely Rubicon Marina enjoying the Market with a large range of stalls to suite every taste. Nestled in between the trendy shops and a wide assortment of cafes and bars, the market brings together groups of tourists and locals, creating a lively atmosphere and colourfull scenes. Our second stop brings us to the centre of Playa Blanca where we have another two hours for shopping, a coffee and tapas along the Beachfront or a nice swim at the beach.
A unique chance to get to know the south of the island of Lanzarote without having to worry about your getting lost.
Enjoy with your friends or your family the beautiful landscapes of Lanzarote while you are sitting comfortably in one of our modern buses until your arrival to the little town of "Playa Blanca", Lanzarote´s southernest tourist ressort and enjoying the most incredible views of the neighboring island of Fuerteventura and islet of Lobos.
Due to its closeness to Fuerteventura, most boats depart from Playa Blanca´s harbor towards the neighboring island known as the "European Caribbean".
On the way to Playa Blanca we see the village of Yaiza, which has been awarded several times for its great cleanliness and which pleasant and quiet area is ideal for the rest of the family. Its eight kilometers of enviable coast host the island's most modern lodging fleet, mostly four- and five-star hotels.
During the first part of this excursion you have two hours to enjoy the flea market that takes place around the marina "Marina Rubicon" with a variety of stalls offering all kinds of typical products for all tastes. Located between trendy shops and a variety of bars and cafeterias, the market gathers groups of tourists with locals, creating a lively and colorful atmosphere.
Stroll along the wide and cozy promenade that extends throughout the coast. Relaxation, shopping, fun and good gastronomic bet, based on fish and seafood, will make your visit even more pleasant.
Lanzarote´s youngest tourist center has got a magnificent climate and our second part we´ll take you to the center of Playa Blanca, once a fishermen village. You have got another two hours to enjoy its shopping streets, take a "coffee with milk" and some tapas (snacks) on the beach or go for a swim in it.
A few minutes away from Playa Blanca you will find some of the most emblematic places of the island, such as the Timanfaya National Park, La Geria, Salinas de Janubio, El Golfo (the green lagoon), Los Hervideros or the cozy village of Yaiza. Places that we encourage you to discover with the excursions to the south of the island that you can find in our program.
After enjoying a magnificent day at your leisure, it is time to return to the hotels.