If your hotel is in the area of PLAYA BLANCA, you have to buy the excursion with transport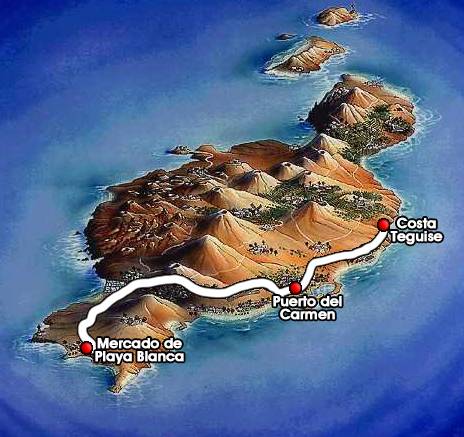 Market of sensations! In the old capital of the island, Teguise, the most famous market takes place every Sunday. In its alleys fild with history, hundreds of stalls offer the visitor a great variety of local handicrafts and typical products. In the main square, Canarian folklore entertains the market. On Sundays some of the centuries-old houses are turned into museums, bars, restaurants or art galleries with a unique charm. Advice: try the typical products, like Cheese, Wine, Tapas, Churros…., and take part of the dances.
Every Sunday of the year we can enjoy a vibrant market, full of life and a town, Teguise, full of beautiful corners that take us to a colonial city of the fifteenth century.
Once we finish the pickup we will take you to the old capital of the island, Teguise, where every Sunday the most famous market of Lanzarote is celebrated. In its streets, full of history, hundreds of stalls offer visitors a wide variety of typical products and local handicrafts.
The flea market of Teguise literally transforms what once was the capital of Lanzarote until 1852, in the most visited and lively town of this beautiful island. In its main square representations of canary folklore encourage the market and you will notice how the body asks you to join the groups that dance and sing with such joy.
Some of the centennial houses of this beautiful village are converted every Sunday into museums, wineries, restaurants or art galleries with a very peculiar charm and in its narrow streets near the church you can taste the local gastronomy sitting on a beautiful terrace while you observe both visitors and islanders mingling along the busy streets of this beautiful village.
If you want to take advantage of the morning to buy, the streets of Teguise offer you all kinds of typical island delicacies, famous goat cheeses, all kinds of Aloe Vera products, Indian tunos (prickly pears), island sweets and a long etcetera. Likewise, the craft is very varied, not only the typical of Lanzarote, but additionally, you will probably find more things than your own imagination allows you to guess.
Enjoy with us a different Sunday morning in this beautiful town of Teguise and let the comments of our tour guides brighten your day and make this a special day on this island of Lanzarote, so unique and so different.
Tip: Try the typical products: cheese, wine, tapas (snacks), churros (fritters) ..., and do not stop cheering up the dancers.