Our minibuses (Vans) with 8 passenger seats - clients + the driver, with stations interconnected between them, climate control, etc, allow us to travel the island of Lanzarote on county and secondary roads where a large bus cannot ride along, quite away from the traditional tourist routes and the tourist centres of the Cabildo. (council)
We will begin the day with the pick up in the different tourist areas like Costa Teguise, Puerto del Carmen, Puerto Calero or Playa Blanca, our first stop of the tour being Las Salinas and its large lake of 440,000 square meters where salt piles up and produces a great claim for visitors. Then we will go to Los Hervideros (cauldron) and its peculiar rocky landscape caused by the Timanfaya eruption and the rapid cooling of the lava, which provokes this unique spot on the coast. Following El Golfo (the Gulf) and its famous Lago Verde (Green Lake), a curious puddle produced by the pile up of maritime ruppia, a seaweed that inhabits in these waters and that pigmented green all the lake, leaving a more than curious stamp. We will then visit the Timanfaya National Park Visitor Center.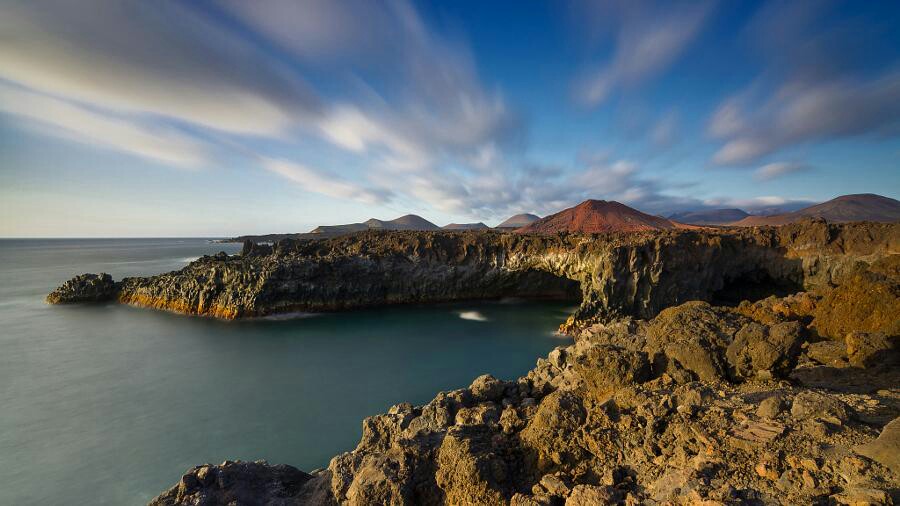 Thereupon shoring on Tinajo, Soo the beach of La Santa, before entering the Caleta de Famara, a spot of great interest for visitors to Lanzarote, from where you can clearly see the islets of the Archipiégalo of Chinijo, as well as the Risco de Famara. Besides this we add the beach of Famara, making this place somewhat idyllic and spectacular for the view.
We will stop at the castle of Santa Bárbara near the crater of the volcano Guanapay, a museum that shows the whole history of piracy in the Canary Islands, as the building itself suffered invasions of pirates and Corsairs. This entry will be included in the price. Near here we will visit the snow cliffs.
Haría, better known as Valley of the Thousand Palm Trees, greener areas of the island, most of the native flora, as well as other tropical species among them prickly pears or cacti. In short, a land full of contrasts that will truly surprise you.
We will finish our route in Órzola, the cliff of the viewpoint El Río (river) and Caletón Blanco (White House), to complete this day full of adventures and emotions visiting the highlights of the island of Lanzarote.
TOUR
-Pick up in the tourist resorts: Costa Teguise, Puerto del Carmen, Puerto Calero, Playa Blanca.
- Departure towards Las Salinas, Los Hervideros, El Golfo, Timanfaya National Park Visitors´ Center
-Tinajo, La Santa, Soo, Caleta de Famara, Teguise and Guanapay castle (visit included in the price)
-Risco de Las Nieves, Haría ,
-El Risco del Mirador del Río, Órzola and Caletón Blanco.
Return to the tourist resorts and tour end.