Clothing and footwear appropriate depending on season. In winter pullover or light jacket.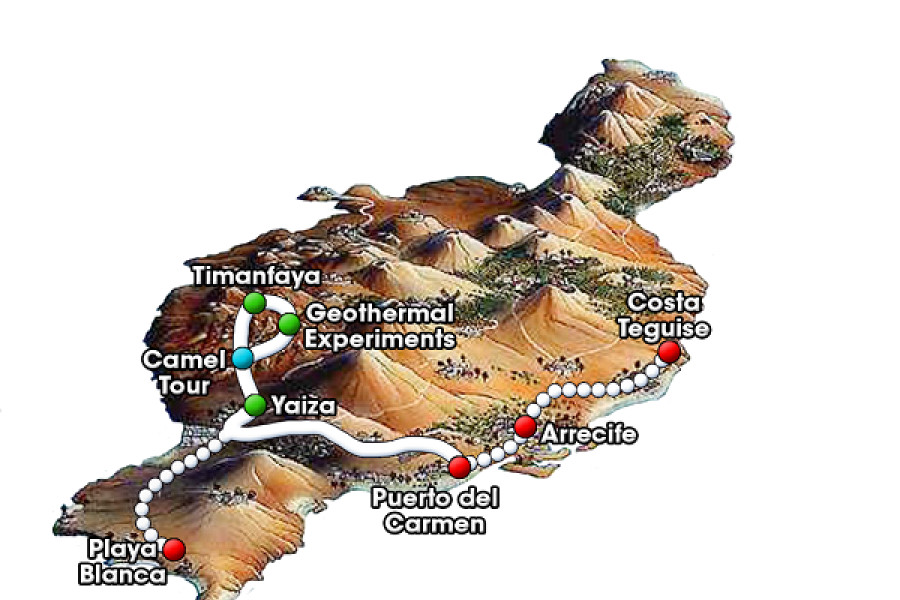 We start this guided tour by visiting the National Park of Timanfaya. Firstly, we will see the impressive geothermic demonstrations where we'll feel the heat which still exists just a few inches beneath our feet. Then we drive the Route of the Volcanoes. We stop for an entertaining camel ride*. .
Itinerary (5/6 hours):
Timanfaya National Park - Volcanoes Route
Geothermal Experiments - Hilario Islet
Possibility of a camel ride (not included in the price of the excursion - 11€ per person or 22€ per camel)
We propose you, a trip back in time to the volcanic heart of Lanzarote with us: the "National Park of Timanfaya" and in the meantime, taste the best wines of Lanzarote in "La Geria".
Volcanoes live on stage! We start our trip towards Timanfaya National Park, including the "Route of the Volcanoes". What today has become a symbol of Lanzarote, its volcanic nature full of striking contrasts.
Our excursion goes into the heart of the "Timanfaya National Park" making the "Route of the Volcanoes" in which we see different types of craters combined with vivid multicolours that reflects the origin of the eruption, the materials that it emitted or even the Intensity with which it exploded. We will check the trace of these eruptions that happened almost 300 years ago, when performing geothermal demonstrations, that is, we will check the heat that still emanates from the earth in different ways, all very spectacular.
In another place of the "National Park of Timanfaya", we have the chance to do something that amuses both children and adults: "the camel ride" (* Optional).
After these spectacular views, we return to the road that takes us back to our hotel.
* Optional: Not included in the price.