Excursion Cesar Manrique House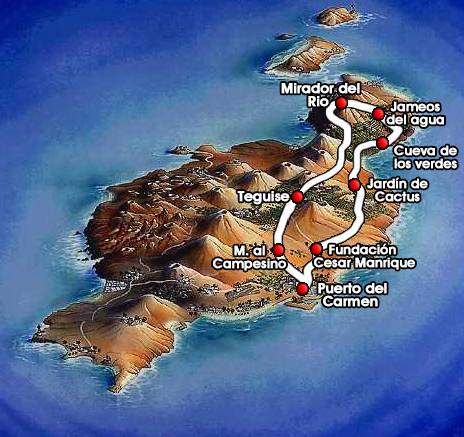 Discover with us the work of a genius! In the centre of the island Cesar turns a simple quarry into a homage to agricultural work: the "Farmers' Monument" after this visit, the way leads through the old capital Teguise to the Valleys. Our next stop surprises us with beautiful views over the Valley of Thousand Palms, the Corona Volcano and the coast with its villages. We cross the village of Haría and visit "El Mirador del Rio" (the Viewpoint of the River) transformed by the Lanzarotenian artist and from where we enjoy the view of Chinijo Archipelago. We descend via the Corona Volcano and visit one of the most impressive caves on the island: you decide between "Jameos del Agua" or "Cueva de los Verdes". Volcanic nature, always present in the work of Manrique, is discovered with the visit to the beautiful "Jardín de Cactus" (Cactus Garden), the last work of this genius to be opened. We save for last the visit to "The Cesar Manrique Foundation", his home and inspiration. The house is perfectly integrated into the surrounding lava. Return to the hotel. Lunch en route*.
Albrecht

Ja , das war doch mal ein schöner Ausflug. Die Tour über Cesar Manrique in den Norden Lanzarotes hat uns sehr überrascht. Die Vulkanhöhlen , das Haus von Omar Sharif und das Leben des canarischen Künstlers Cesar Manrique kennenzulernen waren die Höhepunkte des Ausfluges. Sogar meine Frau hat der Ausflug gefallen. Vielen Dank an Erich , unseren Reiseleiter. Es war ein sehr schöner Tag. Weiter so.
The visit was made by 27-02-2017
Pedro Gómez

Excursión inolvidable la que hemos hecho hoy César Manrique el día 25.10.2017 donde nos han tratado de la mejor manera e informándonos detalladamente de cada lugar visitado.
The visit was made by 23-04-2017