Lanzarote Highlights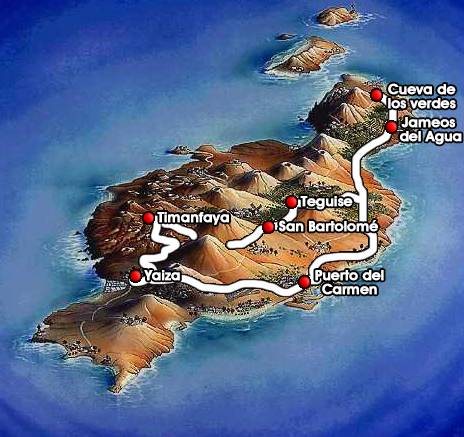 Lanzarote Hidden Secrets!! Come join us and experience the three most impressive attractions on Lanzarote in one tour, we first take you to The Fire Mountains in Timanfaya, a fascinating area of volcanos and lava, formed between 1730 and 1736. We'll see the impressive geothermic demonstrations and feel the heat which still exists just a few inches beneath our feet. Finally we do the stunning Route of the Volcanos; it will take your breath away!
Mirador del Rio is our next visit in the north of Lanzarote, which, like a watchtower offers you impressive views over Chinijo Archipelago and La Graciosa, recently considered as an island.
We continue then to Cueva de los Verdes, a spectacular cave where we will walk a short distance in one of the longest lava tunnels in the World. Discover one of Lanzarote best hidden secrets. Mysterious music combined with a unique illumination will give you an experience for life.Nearby we find the caves of Jameos del Agua which will be visited as well, also a part of this area full of tunnels and caves formed by the eruption of the volcano "Monte Corona" 4000 years ago. There you will meet the famous and rear white blind crab, living in a small natural pond in the main tunnel. You will also be able to admire the Grand Concert Hall within one of the giant lava caves.
Itinerary (9-10 hours)
National Park of Timanfaya - volcanoes route
Geothermal demonstrations on Hilario Islet
Stop for lunch (lunch not included in the price)
Mirador del Río
Cave of the Greens
Jameos del Agua
Peter S

I would recommend this tour. Expensive, but worth it. Lanzarote is more than a building site. It is an amazing island. The guide was delightful, knowledgable and professional, if a little difficult to understand at times. Although LCT's brochure mentions the lunch is optional, it is not obvious on the actual tour. We paid €7 just for one plate of flavoured rice with three small pieces of sea food. There were no other food outlets available. Hence, just 4 stars.
The visit was made by 13-08-2018
Nina

El tour es de lo mejor que puedes hacer en Lanzarote, si no tienes mucho tiempo y quieres ver lo más espectacular de la isla como fue nuestro caso, es lo que yo recomendaría. La verdad es que lo hemos pasado de maravilla, gracias.
The visit was made by 29-04-2017
Noemí

Me gustó mucho la experiencia y sobre todo descubrir el secreto en la Cueva de los verdes; una experiencia 100% recomendable
The visit was made by 30-07-2018