Lanzarote Tours: South Half Day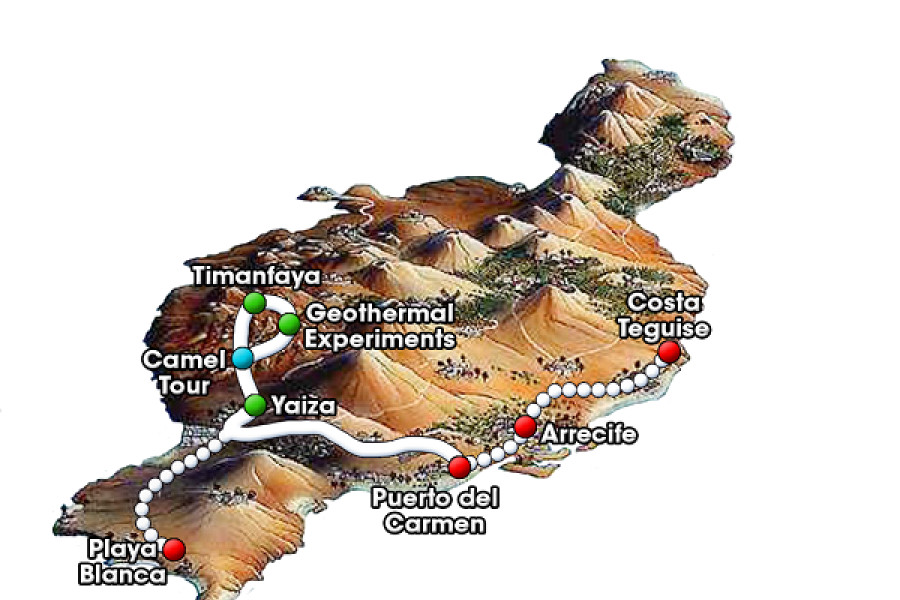 We start this guided tour by visiting the National Park of Timanfaya. Firstly, we will see the impressive geothermic demonstrations where we'll feel the heat which still exists just a few inches beneath our feet. Then we drive the Route of the Volcanoes. We stop for an entertaining camel ride*. .
Itinerary (5/6 hours):
Timanfaya National Park - Volcanoes Route
Geothermal Experiments - Hilario Islet
Possibility of a camel ride (not included in the price of the excursion - 11€ per person or 22€ per camel)
Jennifer

It was a very nice experience to go on your tour and discover the island
The visit was made by 29-03-2017
Frieda

Die Halbtagestour in den Süden mit Lowcost war eine Super-Idee von meiner Frau. Die Kinder haben einen Riesenspass gehabt mit den Experimenten am Vulkan im Timanfaya Nationalpark und als es dann zum Kamelreiten ging, war der Tag perfekt. Ein wunderschöner Urlaubstag. Nächstes Jahr fahren wir dann mal in den Norden.
The visit was made by 03-03-2017
Sonia

Calidad precio es sorprendente, visitando volcanes y la ̈Geria ̈, donde nos hemos quedado gratamente satisfecho.
The visit was made by 06-04-2017
Sarah Herdis

This tour was excellent. We have 2 children 10 & 5 years old so didn't want to go on too long a tour. The South half day was just enough. We got picked up at 9:30 and were back at our hotel by 2:45. After the initial pickups along the way we stopped firstly for a camel ride. Everyone enjoyed this very much. Then we went onto the Visitor centre at the National Park we saw few different kind of experiments with the heat/water and fire. Then a drive through the National Park to appreciate just what went on with the Volcanoes . Afterwards we stopped at a Hotel for snacks or a roll for lunch then onto a vineyard. Excellent gift shop at vineyard. The tour guide was excellent kept us all entertained and informed throughout. Driver very careful especially in National Park. Perfect tour to see a little of Lanzarote for those with younger children.
The visit was made by 05-07-2018
Benito Sánchez Abucha

Gran viaje, muy buena experiencia y un guía estupendo!
The visit was made by 28-07-2018
RYBCZYNSKI

J'étais déjà venue à Lanzarote il y a six ans et j'avais fait les grands tours (nord et sud). J'ai choisi le "sur corto" pour Timanfaya et je n'ai pas été déçue. C'est toujours une nature magnifique. Tout s'est bien passé pour moi. J'ai choisi volontairement l'excursion en espagnol (doublé en anglais) car je parle assez mal la langue mais la comprends plutôt bien et on est en Espagne. L'excursion correspondant à ce que j'attendais, toujours aussi professionnelle et un merci particulier au guide.
The visit was made by 07-08-2018
Susana

Correcto, todo según lo previsto
The visit was made by 10-09-2018
kathy chapman

had a great time on the half day south tour, definatley will use lowcost again for any tours in the future, never let me down well done
The visit was made by 14-05-2018
Carole

We really enjoyed our Short South Tour of Lanzarote. Having done tours previously we only wanted to revisit the highlights and this ticked all the boxes. Eric the tour guide was very funny and knowledgeable and the bus driver was very experienced. Recommend this tour for anyone visiting Lanzarote who wants to see the amazing volcanic landscape with entertaining commentary.
The visit was made by 19-06-2019
Duncan

Excellent Half Day Island tour, with informative engaging guide who kept the the pace going. Could have been improved only with a more interactive demonstration of wine production rather than just a taste of the finished product, which was lovely
The visit was made by 30-06-2019
Ian Gardner

The tour guide deserves a pay rise he was fantastic
The visit was made by 04-08-2019
Huib Frankefort
We enjoyed the tour !
The visit was made by 10-09-2019
Brian Mullen

We booked the Short South Tour on 22nd October. Everything was very good - pick-up, tour guide and drop-off was excellent. Only negative was the very limited time (10 minutes) available at the visitor centre following the experiments. This did not allow us time to do any souvenir shopping. Brian.
The visit was made by 21-10-2019